Viadrus U22 i Viadrus U26 kotlovi za centralno grijanje na kruto gorivo su zbog odličnog ojera uloženo-dobiveno postali nedvojbeno najpopularniji kotlovi na kruta goriva u hrvatskoj. Tvrtka Termometal d.o.o. ovlašteni je serviser i distributer Viadrus kotlova, te smo Vam stoga u mogućnosti ponuditi ove kotlove po minimalnim cijenama propisanima za hrvatsko tržište i to uz besplatnu dostavu kotla na Vašu kućnu adresu.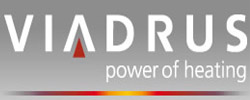 What our customers say about us
Your opinion is important!
This part of site is dedicated to you - our customers and visitors with whom we have had the pleasure to do business.

Please fill free to share your experience and satisfaction with us and with other visitors.
Comment our professionalism, courtesy, delivery, or criticise us if you were not satisfied with the service - this will help us to improve!