Organized delivery to the customer's address in all EU countries!
Thousands of satisfied customers across the whole EU!
Bakrene cijevi u ponudi, proizvedene su u skladu s propisanim HR i EU normama.
Zbog svojih svojstava kao što su izuzetna vodljivost, trajnost i otpornost na koroziju kao i jednostavna i brza montaža, bakrene cijevi prvi su izbor za izvedbe kućnih instalacija, što se poglavito odnosi na instalacije centralnog grijanja. Bakrene cijevi u ponudi tvrtke Termometal d.o.o. proizvedene su u skladu s europskom normom EN 1057, a čistoća bakra upotrebljenog u proizvodnji cijevi iznosi: 99,9%.
Cijevi se isporučuju u šipkama dužine 5 metara, no naručiti možete i količine koje nisu višekratnik broja 5, npr. 18 ili 26 metara.
Uvoznik: Termometal d.o.o. Garešnica
---
VAŽNO !!!
Budući da je tržište preplavljano bakrenim cijevima upitne kvalitete i svojstava, prije kupnje OBAVEZNO provjerite jesu li cijevi koje kupujete proizvedene u skladu s propisanim normama (imaju li na sebi oznaku EN 1057).
Više o tome kako se zaštiti od kupnje nekvalitetnih i neodgovarajućih bakrenih cijevi možete pročitati ovdje.
---
+ Read more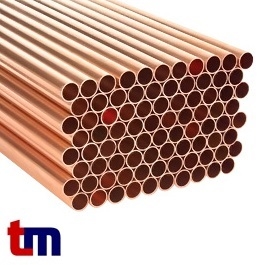 Documents for download:
What our customers say about us
Your opinion is important!
This part of site is dedicated to you - our customers and visitors with whom we have had the pleasure to do business.

Please fill free to share your experience and satisfaction with us and with other visitors.
Comment our professionalism, courtesy, delivery, or criticise us if you were not satisfied with the service - this will help us to improve!